Compare Checking Accounts

Compare Checking Accounts
Our accounts are tailored to you! With a Zeal checking account, you get more advantages and less cost. Life is busy, and we know flexibility is key – that's why your personal accounts should work for you.
Easy Access
24/7 Online Banking
Automated telephone banking
Online Bill Pay
Nearly 30,000 Co-Op ATMs, surcharge free
5,000+ shared branches
Fees?
Free Visa® Debit/ATM Card
No per-check fees
Unlimited check writing ability
No point-of-sale transaction fees***
Compare Checking Accounts
Which account works best for you? Review the chart below for a detailed comparison.
| Checking Accounts | Free Checking | Dividend Checking |
| --- | --- | --- |
| Minimum Opening Balance | $1 | $1,000 |
| Combined Daily Balance Requirement | $0 | $1,000 |
| Monthly Service Fee | $0 | $6* |
| Per-Check Fees | $0 | $0 |
| Visa® Debit Card / ATM Card | FREE | FREE |
| ATM Withdrawals | Unlimited withdrawals at CO-OP Network ATMs | 5 FREE** |
| Point of Sale Transactions (POS)*** | FREE*** | FREE*** |
| Online Banking | FREE | FREE |
| Online Bill Pay | FREE | FREE |
| e-Statements | FREE | FREE |
| Online Check Imaging | FREE | FREE |
| | Apply | Apply |
*Service fee waived if daily balance requirements are met in a single account or combination of accounts.
**Five free ATM withdrawals per month when minimum balance requirements are met. You may be charged a fee by other financial institutions for use of their ATMs.
***International currency conversion fee applies to transactions originated by an out of country merchant.
Frequently Asked Questions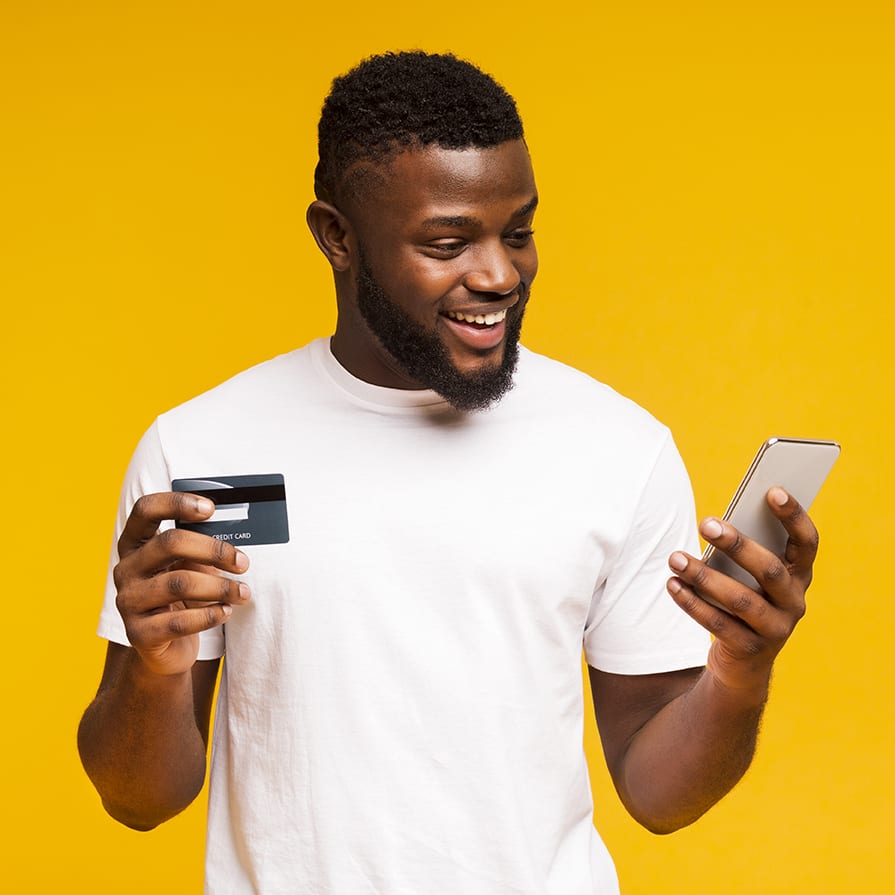 Debit Cards
When it comes to making purchases, you deserve simplicity. When you shop with your Zeal Credit Union VISA ® Debit Card, the amount is deducted directly from your checking account. What's even more convenient is your VISA Debit Card also works as an ATM card.
With our CO-OP Network of ATMs, you'll have access to over 30,000 surcharge-free ATMs in the U.S. and Canada (Canadian ATM withdrawals are not surcharge free). Put simply, it's easy to transfer money between your accounts, make deposits and withdraw cash at any time, day or night. With a Zeal Credit Union VISA Debit Card, you're also eligible for Overdraft Privilege. Overdraft Privilege pays for items that would not normally clear your checking account because of insufficient funds.
Plus, we offer tools to protect your account. You can set up purchase alerts and card controls to lock a lost or missing card or decline online/international transactions.
Click here to locate a CO-OP Network ATMs location near you.
FRAUD ALERT? Click here for next steps.
Direct Deposit
Why wait in a line to cash your paycheck? Save time and money when you sign up for Direct Deposit. Have your check deposited directly into your account with Direct Deposit. Direct Deposit can be set up for your payroll, social security, pension, or retirement check. You'll also earn dividends sooner.
Getting started is easy. Your payroll department can provide you with your company's direct deposit form. Our Zeal team can also provide you with a Direct Deposit letter to give your employer. To complete the form, you'll need our routing and transit number (which is 272477694) as well as your credit union account number.
Please use your account number, not member number, when signing up for Direct Deposit and/or automated Payments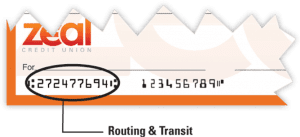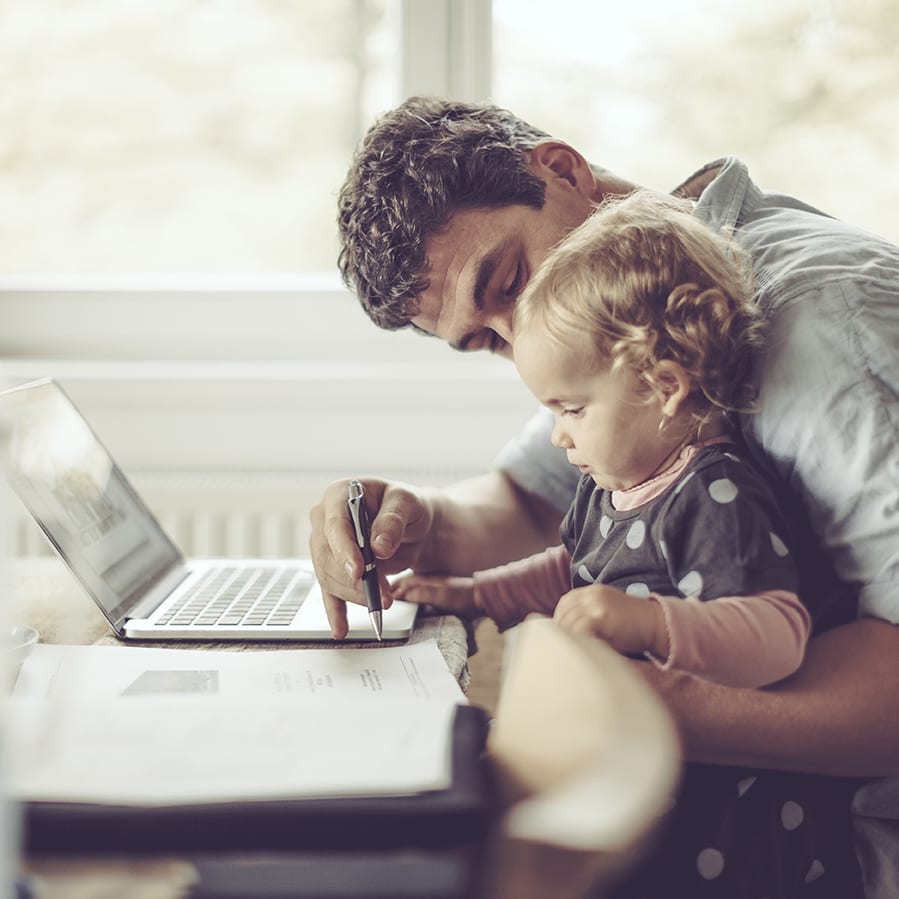 Overdraft
Have you ever lost track of your account balance? It happens to the best of us for a variety of reasons. That's why we offer you different options to cover overdraft transactions. Overdraft coverage allows for payments to be made from your checking account, even if funds aren't available. You get to choose from a variety of overdraft services that best suit your needs. Fees may apply to these services.
OVERDRAFT PRIVILEGE RULES & REGULATIONS
You must deposit an amount equal to or more than the amount of discretionary Overdraft Privilege extended to you.

You must bring your account to a positive End of Day balance within every 54-day period. A zero balance is not considered to be a positive balance.

You must not be in default on any loan or other obligation to Zeal Credit Union.

You must not be subject to any legal or administrative order or levy.

Overdraft Privilege is not a line of credit, but a courtesy to protect you if you inadvertently overdraw your account. We have the discretion to pay the overdraft, subject to the limit of your Overdraft Privilege and the amount of the overdraft fee. Zeal Credit Union is not obligated to pay any item presented for payment if your account does not contain sufficient available funds. Any discretionary payment (or other negotiation or processing) by Zeal Credit Union of any non-sufficient item does not obligate Zeal Credit Union to pay any additional non-sufficient fund items, or to provide prior notice of its decision to refuse to pay such items.

Zeal Credit Union will consider, as a discretionary courtesy and not a right or obligation, approving your reasonable overdrafts. This privilege will generally be limited to a maximum of $500 in negative balances for member checking accounts. Any and all fees and charges, including without limitation the non-sufficient funds fees (as set forth in our fee schedules), will be included. Overdrafts written above and beyond Zeal Credit Union's established limit may result in a check or checks being returned to the Payee.
***International currency conversion fee applies to transactions originated by an out of country merchant.