Melvindale Branch is Permanently Closed as of June 30, 2022

Melvindale Branch is Permanently Closed as of June 30, 2022
The Zeal ATM at this location remains in operation
You've come to expect the best and easiest banking experience from Zeal, and we've worked hard to deliver on that expectation.
Over the years, we've developed some of the best electronic and remote banking services available and members have responded by using them more and more each day! The added convenience and ease of transacting business without needing to come into a branch has become so popular with members that it has notably reduced the usage of some branch locations.
To continue to meet our goals of delivering better rates and lower fees to all members, as well as continuing to offer the state-of-the-art banking products you're looking for, we have permanently closed our Melvindale branch location.
Effective June 30th, 2022, our Melvindale Branch is permanently closed.
The Zeal ATM at this location has remained in operation.
Check out these nearby Zeal Branches…

Plus, check out these other great options for your banking needs…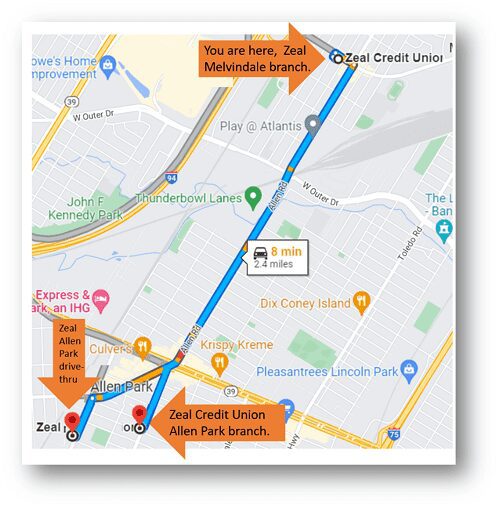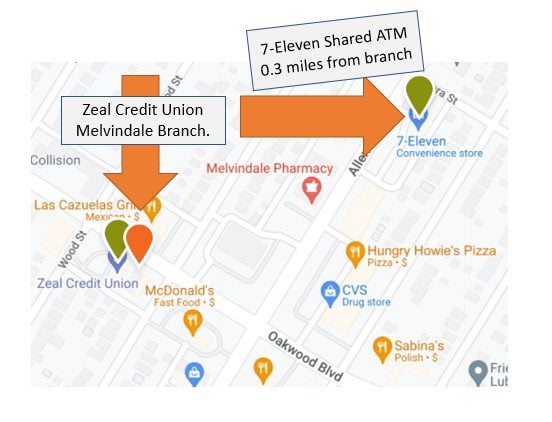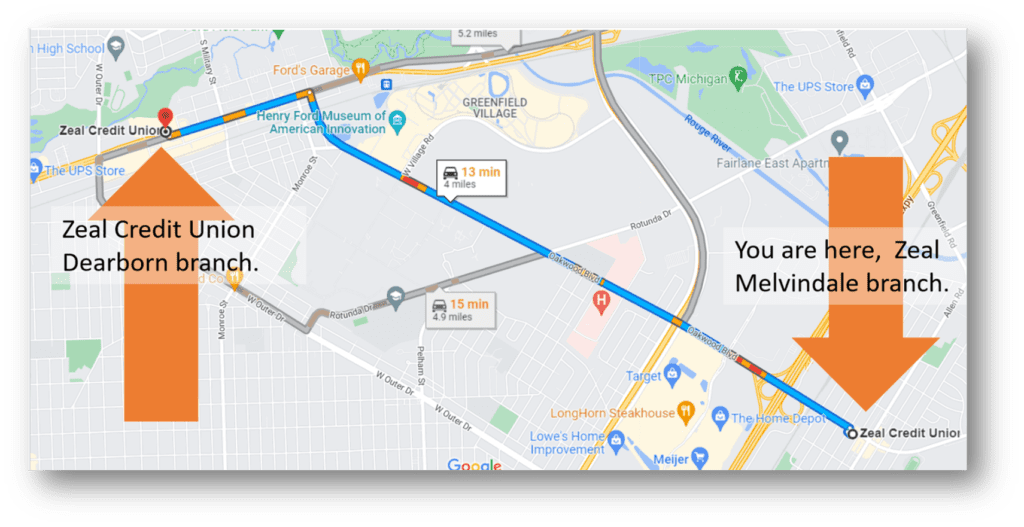 Plus, use Shared Branch locations to make deposits and withdrawals, loan payments/advances, credit card advances and more.
Check out the over 5,600 Shared Branching and more than 30,000 surcharge-free ATM locations on our Locations page!
…AND, take advantage of these convenient, simple, and quick services to make banking with Zeal easier and more convenient than ever!
Access to Cash/Surcharge-Free ATMs
More than 30,000 Surcharge-Free ATMs nationwide for cash withdrawals. Visit our web site to find surcharge free ATMs in your local area. You can also get cash with your Debit Card at the check-out line at your local grocery or retail store.
Shared Branches
Through our Partnership with the Credit Union Shared Branching network, we offer an additional 5,600 full-service deposit-taking locations in the U.S. Services include deposits and withdrawals, loan payments and loan advances, Credit Card advances and much more! To find the location near where you are or will be, just visit our website for details or download the mobile app for your phone or tablet by searching "Shared Branching."
Free Online Banking and Free Bill Pay
Easily check account balances, pay bills, transfer money, set up recurring transfers to make loan payments, view copies of checks and more!
Direct Deposit
Many members already value the security and convenience of having their paycheck, social security or retirement check directly deposited into their Credit Union account. Please sign up today if you have not already done so.
Online Loan Applications
Through our website, it's easy to apply for any consumer loan or mortgage online. No appointment necessary! Whenever you have the time, just log on and apply – any time, day or night in the privacy of your home or office.
We understand that you may have some questions or wish for assistance in determining which of these services are right for you. We're here to help –always– so please don't hesitate to reach out to us at 734-522-3700 or 800-321-8570, or by text at 40539.
.